What is Anime St. Louis?
Registration
Cosplay Contest
Programming
Rules and Policies
Forums
Gallery
ShowMe Con
Programming
Main Events
Artists' Alley- Open 3-8 on Friday, 10-7 on Saturday, and 10-3 on Sunday. The pricing for Artists' Alley is $10 for a half-table and $25 for a full table. Sign up forms for Artists' Alley are coming soon! Until then, reserve a space by emailing Katrina at magicalmoogle@yahoo.com. Artists' Alley is reserved for amatuer artists, manga writers, and costumers who have not been published by a major publishing company or who do not work for or represent a corporation. All Artists' Alley participants must have either items for immediate sale or giveaway at the convention or a way to order items at the convention. All people who run tables in Artists' Alley must purchase full convention memberships. Anime St. Louis/ShowMe Con will not be responsible for items at Artists' Alley tables.
If you are a dealer who wishes to sell in the Dealers' Room or an artist who wants to participate in the Art Auction instead of having someone sit at your table all day, please visit the ShowMe Con website.
Grand Masquerade and Cosplay Contest- Anime St. Louis is planning to run its Cosplay Contest as part of ShowMe Con's Grand Masquerade. Please see the Cosplay Contest page for more information.
Bishounen Date Auction- On Friday night of the convention, Anime St. Louis is holding a Bishounen Date Auction in which bishounen are auctioned off to girls (and guys!) who want to have a "free" (the price is how much you pay for the bishounen) spaghetti dinner in a romantic setting with the bishounen they win. If you are interested in being a bishounen in the date auction, fill out this entry form. Women are allowed to enter as bishounen if they plan to crossplay convincingly (this means binding). This event has to stay PG-13 rated, so NO STRIPPING!
The Trial of Snape- The Wash U. Anime Club is going to host a trial for Severus Snape on Saturday of the convention. Several roles (including Snape) have already been cast, but the Wash U. Anime Club is still looking for many characters who can testify for and against Snape. Warning!: There WILL be spoilers! Details>>
The Match Game- Four audience members are chosen to compete in Anime St. Louis' version of the classic game show The Match Game. Contestants try to match answers with their favorite characters- including Vash the Stampede, Jin from Samurai Champloo, and Severus Snape.
Final Fantasy Jeopardy- The Webster University Anime Society hosts a Final Fantasy-themed game of Jeopardy! Four audience members are chosen to compete with each other to see who is the biggest FF fan!
Panel Programming
Anime St. Louis is looking for people who are interested in running panels at the convention. We are going to have three-track panel programming this year as well as gaming and a video room. If you are interested in hosting panels, please fill out this form. All panelists must have already pre-registered so that we know you plan to come. Panelists who do four or more panels can earn a free membership to next year's Anime St. Louis.
Meet the Guests!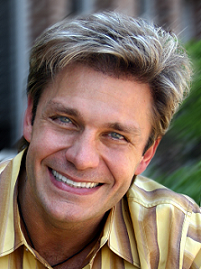 Vic Mignogna
American voice actor
Most famous as the voice of Ed in FullMetal Alchemist
Chris Patton
American voice actor
Chris Patton is a voice actor for Funimation Entertainment and ADV Films in Texas. His credits include Greed in Fullmetal Alchemist, Sousuke in Full Metal Panic (including Fumoffu and Second Raid), Fakir in Princess Tutu, Sasame in Pretear, Ayato in RahXephon, Hiroki in The Place Promised in Our Early Days, Sho in the new Guyver, Max Jenius in the new dub of Macross, Hajime in Ghost Stories, Rei Otohata in Super Gals, Eutus in Magical Shopping Arcade! and many more, including Burst Angel, Case Closed, Hello Kitty's Animation Theater, Saint Seiya, Gantz, Gravion, Gravion Zwei, Aquarian Age, DNAngel, Saiyuki, Peacemaker, and others.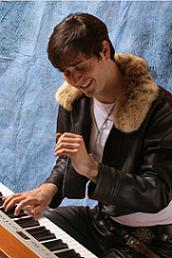 Piano Squall (Michael Gluck)
Concert Pianist
Piano Squall, the Final Fantasy-cosplaying pianist, has performed game and anime music concerts in New York, California, Texas, Massachusetts, Pennsylvania, Florida, Ohio, Washington, Connecticut, Virginia, Colorado, Maryland, Missouri, Oregon, and Georgia. In 2005, Piano Squall appeared as a musical guest at the anime convention Otakon, where he performed for an audience of three thousand people.
Piano Squall is an active supporter of charity and donates all of the money he makes from concerts to The National Multiple Sclerosis Society--an organization fighting to end the devastating disease that killed his grandmother. To further his personal efforts, Piano Squall provides Benefit Concerts that have raised money for a wide variety of charities, including The National Multiple Sclerosis Society, Baltimore Reads, The Matthew Foster Foundation, The Maryland Food Bank, and Tsunami Relief. Highlights include the 2004 Villa Julie College Benefit Concert, which raised nearly three hundred pounds of food for the homeless in a single evening.